Buying second-hand US-made Levi's – Permanent Style
Getting good mid-blue jeans can be tricky, given the prevalence of raw denim among most high-end makers we cover. Several do offer washes – like Orslow and Full Count – but the range and therefore the choice is usually less. 
Plus of course that's the very top quality, which isn't what everyone wants or can afford. The mid-market for jeans can often be a bit more confusing in terms of quality and service. 
For both those reasons, I thought it was worth highlighting another option, which is nineties Levi's bought second-hand, on eBay or elsewhere. 
This era of Levi's jean was usually made in the US, and used rather better quality denim than modern ones. Not better than the high-end repro brands, or the Levi's sub-label LVC (Levi's Vintage Clothing). But they're much cheaper, and LVC looks like it won't be around much longer anyway. 
It's the price, and therefore the value, that's the kicker. A pair of nineties Levi's in a good vintage store might be £80 or £100 – around the same as modern Levi's, but better quality. 
However, if you're prepared to spend a bit of time (and go through some trial and error) on eBay, then you can pick them up for £30 or £40. 
Here's how to find them and how to identify them.
How to search, with eBay as the example:
Search for Levi's Made in USA and the style, eg 501

Refine for just men's, then by your waist size and colour

Refine by condition to 'Used' assuming you don't want new-old stock

Refine to 'Buy it now' unless you don't mind going through an auction. In which case, good to sort by 'Ending soonest' so you prioritise those

Compare the provided measurements with what you need (based off measuring your own jeans) 

Find the fade you like best with decent measurements, and give them a go
Bear in mind that:
Some of these were usually shrink to fit, so the marked size and the actual dimensions will differ, and not by the same amount each time. Go off the measurements provided, and keep in mind with searching that they might have been tagged with either the marked or the actual size

501s don't vary too much in the cut in this period (close hips, straight leg) but they do vary in the rise, so keep an eye on that

Most sellers offer returns, but not all. Worth making sure they do given you're trying jeans sight unseen

Some sellers sell jeans with an 'example' wash, because they have a whole load and don't want to shoot each one. It's a minority, but again keep an eye out

If there are other styles you prefer, eg 505 for a bigger size through the hips, use that instead

People listing sometimes make mistakes, sometimes just include things in a variety of categories to try and catch as many eyeballs as possible. These need to be weeded out
Some general tips:
It cuts down time enormously when you find a seller on eBay that has a lot of what you're after. Eg

'Holdwest' in the UK

is good for this era of jeans

Searches can be very text specific, eg 'Made in US' brings up a lot less than 'Made in USA'. It can take some time to work out the wording people mostly use

Watch out for typos. Sometimes searching 'Lewis' rather than Levi's brings up something interesting. Although it happens more for obvious typos, like 'Loro Piano'

Save your search so you can go back to it easily, and you can set up alerts if there's nothing that hits what you want exactly
How to identify the jeans:
Once you find a pair of 501s, these are the kinds of things to look for in the images (or when you receive them) to make sure you're getting the real thing. So look at:
The label inside, which will say whether they were made in the USA

The red 'bat wing' also shows they were made after 1986, which is all of what we're looking at

The other side of the label, which has a whole lot of numbers and information. These can help identify lots of different things about the jeans, and can help pin down the rise. But then you can tell that from the measurements – the one you can't see otherwise is the date:

This is expressed as two, three or four numbers, representing the month and the year. See image below. 

Most of these will run from the nineties into the early 2000s. Anything before that gets a bit nicer but probably more expensive

The patch on the waistband, purely for the 'XX' that indicates the denim. They usually are, but the XX indicates a better denim and was usually shrink to fit. 

Don't worry about the selvedge, as the quality for made in the USA was pretty consistent

Equally the stamp on the back of the button can tell you where they're made, but you only really need this if the label is unreadable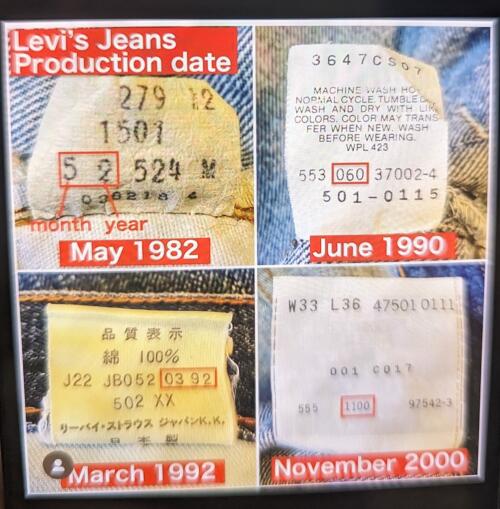 I've bought one pair of nice 501s through this method, for £39, and have another I bought in Japan for twice that, featured recently here. 
They're not as nice as any of my older vintage Levi's (60s, 70s). They're not as nice quality denim as my washed Full Count jeans. But they're a better cut that the Full Count, a better wash than most mid-blue jeans out there, a better fit (for me) than pretty much all of them, and cheap enough that I won't mind if I find a better-quality pair in a year or two. 
Also, I'm happy spending that amount again on getting them altered, somewhere like Blackhorse Lane. Usually I find I need to be a little bit big on the waist in order to get the best fit through the hips and thighs, so I have them taken in by an inch or so.
I spoke to both denim experts and serial eBay shoppers for this piece, but I'm sure there are still things I've missed or even got wrong. In either case please leave a comment below and I'll update accordingly. For everyone else, happy hunting. 
A couple of more in-depth articles, should you want to dive deeper: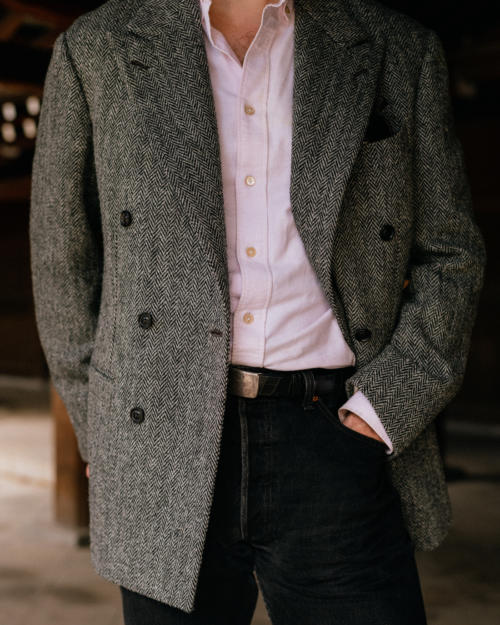 Reposted from www.permanentstyle.com
Related