Fine Florentine tailoring and haberdashery – Permanent Style
Speciale is a beautiful little shop in the west of London, making fine bespoke tailoring and unique shirts and knits. I should have covered Bert and George earlier and I haven't, and it's entirely my fault. 
My only excuse is location. Speciale is at the top end of the Portobello Road, known for its market (made more famous recently by Paddington) but otherwise not on the menswear radar. It's not really close to anything else, even in west London.
Still, my job is to seek these things and I should have done so before now. Hopefully today's article will help make up for it. 
First things first. 'Speciale' is not just a name picked by two guys that want to say they're special in Italian. It was the name of the Florentine tailor, Lettorio Speciale, whose work inspired George to become a tailor. 
George (below) had been at art school in Florence when he was introduced to the tailor Lorenzo Albrighi in Santo Spirito. (The square where all the students hang out – if you want to feel old while in Florence, go there.) 
Albrighi was the last tailor to be trained by Speciale, and was wearing a jacket he'd made. George was so taken with it that he dropped out and moved to live in Albrighi's workshop in Milan. 
In 2014, George returned to London having finished his apprenticeship. That's where he met Bert, and the two set up a tailoring business out of Battersea. George returned to Tuscany three years later, to work under the coatmaker Mauro Fanfani and then with Liverano in Florence. 
Bert also moved to Italy and worked for a small tailor, Rosario Sagliano. But by 2019, both were back in London, having found it hard to earn a living in Italy. Once back they decided to set up on their own, with Bert (below, right) focusing on the shop and brand rather than tailoring. 
"I loved tailoring but I felt I'd hit a point where I had the hang of it enough – paradoxically – to realise I wasn't actually that good, certainly compared to George or the people I looked up to," he says.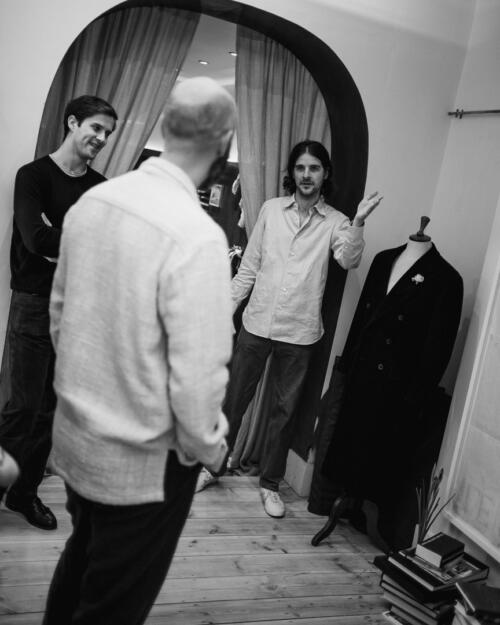 The approach to the shop was partly inspired by the Anderson & Sheppard Haberdashery, with its determination to not sell tailored jackets or coats but everything you'd wear with them – at the same high standard. 
"There was also this uniform you wore as a tailor at your board, of a shirt and sweater every day," says Bert. "We wanted to replicate that, though often with our particular take."
The shop has been slow to fill up, but you can see their point of view in both the shirts and the knitwear. The V-neck knits and vests, for example, have a particularly deep neckline that's accentuated by the short body (designed to wear with high-waisted trousers). 
The knitwear is mostly cotton, with a small(ish) armhole to make them easier to wear with tailoring, but a generous body, and an unusual mix of ribbing – 2×2 on the collar but 1×1 on the cuffs and hem. 
Bert and George have tweaked things over time – those knits are now 3cm longer than they used to be – but I'd say they're still best with high-waisted trousers. I bought a Large in the navy crewneck above, for example, and while the cotton, the colour and the neckline and perfect, the sleeves are rather long. With the pale-blue vest, I was best in an Extra Large (pictured) but that meant a fair bit of extra room in the body. 
The knits were also designed to be unisex, with a full range of sizes that men and women can pick through depending on how they like the fit. Emilie Hawtin wears both the vests and the shirts beautifully – as mentioned in her piece for us here. 
This means there aren't many at the top end of the size range for men. Lucas, for example, [Nicholson, Permanent Style] was too large for the range and normally wears a 44-chest jacket.
The shirts are also in a process of transition, being made now in exclusive cloths for the first time – high-count cottons that have a silky feel, with unusual asymmetric stripes. 
Unfortunately when we visited only two of the colours had arrived, the others being stuck in customs. But they showed the aesthetic well I think, both being unusual but subtle stripes – cream on blue and the reverse, blue on cream. I tried a size 15.5 and it was a nice fit, with a point collar and a generous body without being overly big. 
Around the shop there are also other bits and pieces, often with a Florentine theme. The jewellery of Ranfagni, for instance, and display shoes from Saskia Wittmer. "Florence meant so much to us," says Bert, "it made sense to have this in the shop".
"Same goes for the ties from Sevenfold. I know the embroidered designs are a little quirky, but we couldn't believe there was no other stockist in the UK."
Of course, the main interest of many PS readers will be the tailoring – so what's that like? 
George's tailoring is more or less directly descended from Speciale, a small house that produced Florentine tailoring fairly similar to others we've covered such as Liverano and Vestrucci – no front dart, straight front edge, soft make and a lot of hand work. 
"Generally in Florentine tailoring the block is quite basic," says Bert. "You've only got one dart to help you, so its really left to the making to give a jacket its expression and bring it to life. And there is a unique depth of largely unseen hand and iron work that goes into prepping and making each element of the jacket.
"It's this that gives it more shape, longevity and cleanliness: how little excess and bulk there is left in a corner of a lapel, how little lip there is at the top of the welt pocket, how clean the roll of the lapel or sleeve-head is, how flush the lapel sits on the chest etc." 
The making really is impressive, and something I think I'll end up returning to on PS for more detail.
There's also a functionality to Florentine handwork that I always admire – but Bert describes better than me: "The thing is the jacket should wear and look better because of the extra work, that's the key: the philosophy is about practicality, not just prettification. It can even be quite brutal to that end in places."
As an example of this brutality, Bert points out the the hand seam that's sewn one centimetre in from the edge of the lapel, but which is so tight it looks like machine work. We're looking at the old Speciale jacket they have (above) and I would never have spotted that for the work of hand and needle. 
"That locks the lapel forever," he says. "It really is built around the assumption you're going to live in it." 
If anyone wants any more details on the tailoring now, the Speciale story highlights on Instagram have quite a lot, as do the Bespoke photos in the Specialeworld section of the website. 
Speciale is at 324 Portobello Road, Notting Hill.
Prices (including VAT): 
Bespoke suits from £4884

Bespoke jackets from £3806

Bespoke coats from £4994
Timelines are normally around six months for a first customer, with three fittings. There is no travelling currently, but trunk shows to Los Angeles are planned for next year.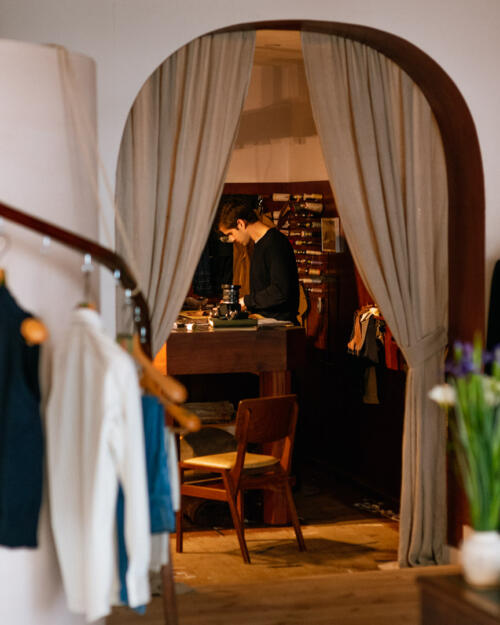 Reposted from www.permanentstyle.com
Related