Heavy, slubby, transitional linen jacket from Ciardi – Permanent Style
This jacket was made using fabric from the interiors house de Le Cuona. A previous one – in a beautiful but rather adventurous orange – was covered here last year. 
It's the 'Primitive' quality of their linen, which is slubbier but also heavier than the 'Artist Canvas' used for that first jacket – that was 15oz, this is 18oz. So while the first jacket could just about be called a summer piece (if you live somewhere north and don't sweat that much) this couldn't really. It's transitional: autumn and spring. 
That might seem unusual in linen, but in tailoring we can get a little too tied up with seasons and appropriate fabrics. Just the fact that a 'summer' fabric is considered the same in Sweden and Hong Kong shows that can be misleading. And of course heavier linens, just like cottons, have long been used for workwear.
The colour might make it seem summery too, but this greyed shade that de Le Cuona call 'garlic' is a long way from classic cream, and with something like jeans I don't think it benefits that much from sunshine. You might not wear it so much in the snow or rain, but otherwise it's fine.
Primitive is a really gorgeous fabric: soft yet tough. It's the closest thing I've found to the vintage linen I used years ago on this jacket, but is better in everything apart from weight. De Le Cuona use a range of yarns to get that slubby texture, and then stone wash it to create the softness. 
This stone-washing could be one reason it sits so nicely alongside denim, as shown in these images. I have worn it with tailored trousers (dark brown or dark green, white shirt, brown or black shoes) but there are many cloths that work like that – far fewer other than tweed that work with jeans. 
It doesn't quite fill the gap we talked about around this jacket from J Mueser, of a summer jacket that worked with both jeans and tailoring, because of the weight. But it ticks every other box. 
The jacket was made by Sartoria Ciardi, in the same style as the double-breasted cord jacket I covered previously here. And of course we've reviewed Ciardi in general before. 
So I won't go into detail about the fit or finishing, merely say that while we had some issues with the length on this jacket, Ciardi were very willing to fix them. It was the same with this pale-grey herringbone from them, where the pocket flaps were initially wrong but quickly fixed. Of course this is just my experience, so if anyone else has anything to report, do please do chime in.
I really like the Ciardi DB cut, its softness and roominess, slightly lower buttoning point and relatively wide lapel. The only thing I'm not quite so keen on is the end of the lapel, which is a little pointy. Not something I noticed so much on the darker cord DB, but do here. If I ever had another DB made, it might be something I'd tweak.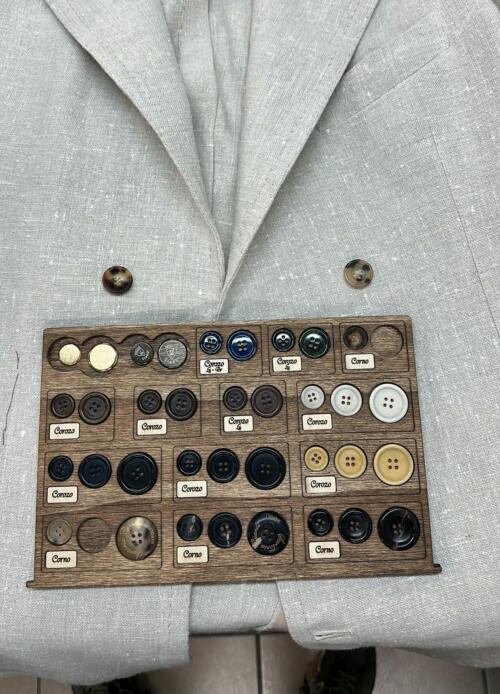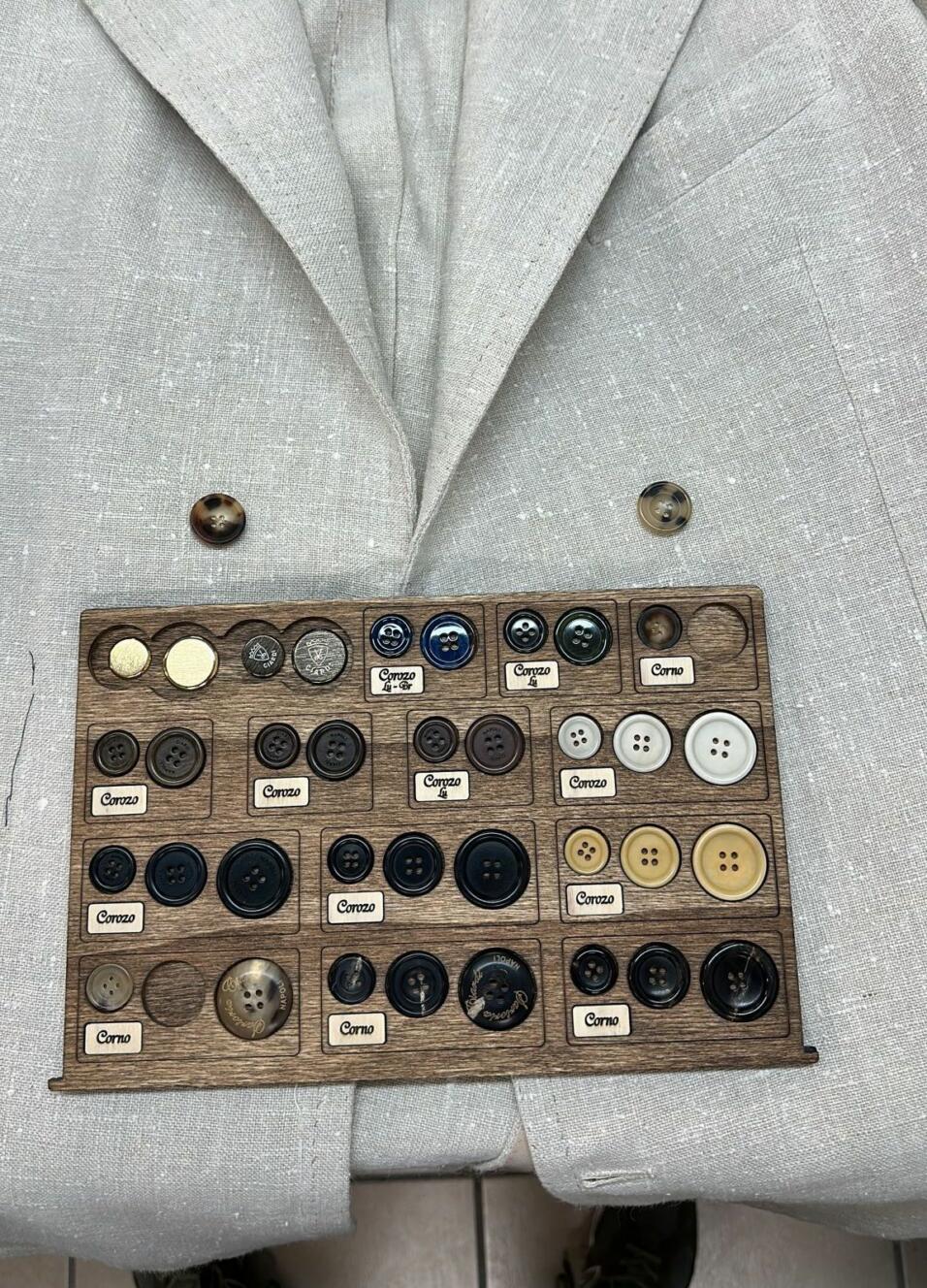 I agonised over the button choice. Pale jackets and suits are much harder in that regard than darker ones, where the options are limited to colours close to the tone of the material. 
With a pale linen like this, you can go with light brown horn, dark brown horn, the same in corozo, milky white horn, even mother of pearl. I remember we were on holiday with my family near West Wittering when Enzo sent me a picture of the button choices, and we all gave our opinion while sitting outside a pub on a hot summer's day. 
Interestingly, the older girls (aged 15 and 13) have a really good eye for colour, as does my wife, despite none of them being into clothing. As we waited for our pub lunches to arrive – with one person always keeping an eye on the three-year-old – there was a healthy discussion about the virtues of different colours and materials. 
I was going to go for the light-brown horn, knowing it was a safer choice and having been burnt in the past (not that buttons are the hardest thing to change, but still). The consensus from the rest of the table, however, was this yellow corozo, and I think it's has worked out well. Perhaps not quite so good with tailoring, but fantastic with more casual outfits. 
The jeans shown here are nineties 501s from eBay that I wrote about recently. As described in that article, they're not the finest quality ever (I wish they had the fades of my sixties pair or the quality of my Japanese jeans) but they're still nice and a lot better than most on the high street. Plus they cost £35. 
I've shown the jacket with denim and double denim, a T-shirt and a shirt, to illustrate how nice I think it pairs with them. But I'll leave discussion of why it works so well with jeans, and works with a T-shirt at all, to another post. Both of those deserve fuller treatment, and frankly I'm not even sure why the tee works. (It's the same with my Taillour suit; something to do with the combination of a higher neck and soft shoulder perhaps). 
The boots are a first commission from Roberto Ugolini, whom I'll cover in more detail soon as well. Lovely man, good fitting shoe. 
I think – not to give myself too much to research and write – that there's also a piece here in western (as in the American west) fits and silhouettes. Unlike the workwear aesthetic/paradigm, there's a neatness, a slimness to the finishing which suits tailoring.
Other things shown:
PS Tapered Tee, large, white

Al Bazar denim shirt, with western detailing, 15.5

Cartier Tank Francaise 'chronoflex', yellow gold
Photography: Alex Natt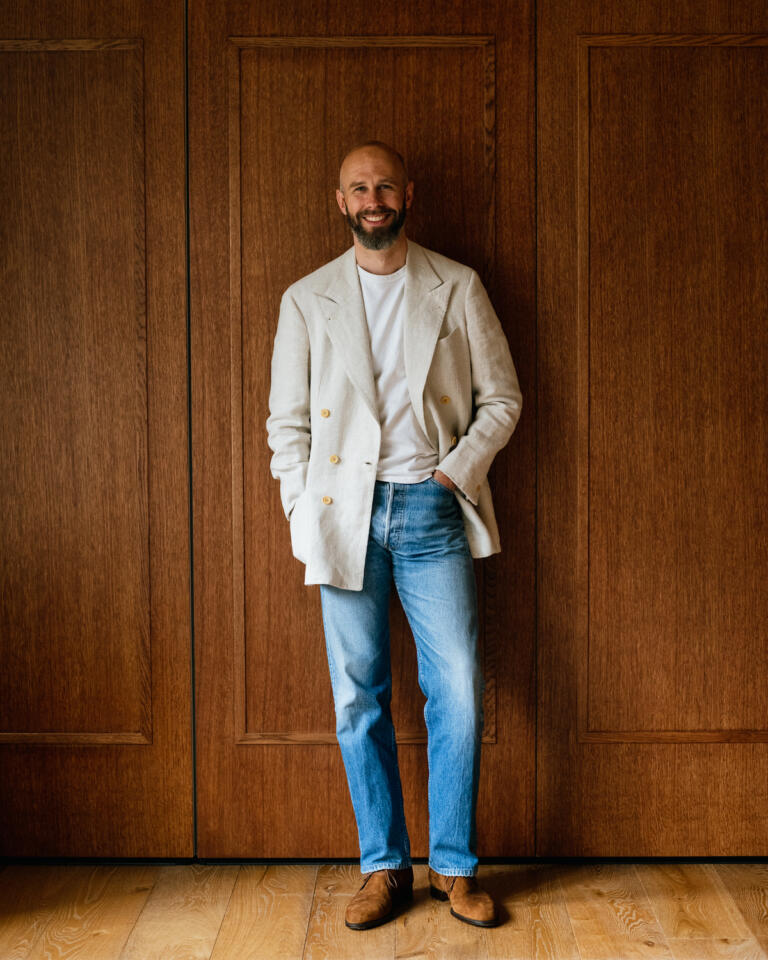 Reposted from www.permanentstyle.com
Related