How I wear a black tailored jacket – Permanent Style
This is the first piece of black tailoring that's been featured on Permanent Style, I think, outside of evening wear.
Over the past three years we've been exploring how black's role in the wardrobe can be expanded, beyond tuxedos and lace-ups. In that time we've looked at:
In my view, this is the order in which they are easiest to wear, with black loafers simply an interesting alternative to the more ubiquitous brown, and black trousers requiring much more care.
Black jackets and black shirts belong at the bottom of that list. Black shirts can easily look cheap or flashy, while black jackets have a tendency to look too funereal, or like a 'stroller' – part of a formal wardrobe from more than a century ago.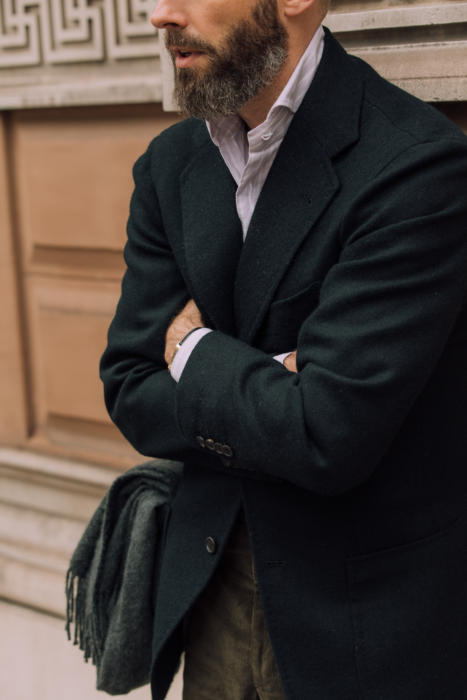 It was with that in mind that I made my first black jacket in a very casual, soft-shouldered cut (from the excellent Jean-Manuel Moreau) and a casual material – herringbone tweed. 
Since receiving the jacket back in September, I've been trying it with various different combinations of shirts, trousers and accessories, and seeing what I liked. As with many things on PS, I'm merely a beginner here, and I'm sure others will have their preferred combinations. But I also know many readers like this step-by-step process too, so here are my step-by-step thoughts. 
If we assume the aim here is a rich, more elegant daytime look, rather than something more rock 'n' roll, fashion-y or evening-y, the black jacket's core problem can be summarised as:
Anything without any colour in it, like a white shirt or grey trousers, creates too stark a contrast

But any colour that is too strong (even a blue shirt beyond the very palest of pales) can easily look cheap
So I've found a nice option is colour, but very pale or very dark.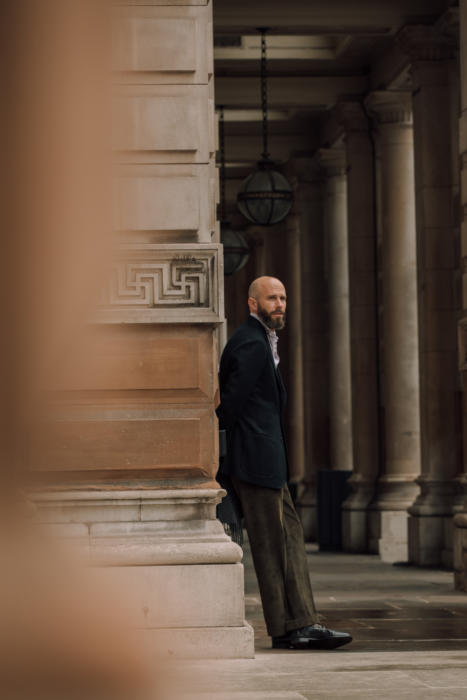 With trousers, that means dark olive or dark green primarily. Beige, stone and other off-whites are good at avoiding the high contrast of white, but can still look rather formal. 
With this particular jacket, flannel seems to be a little too close in texture to the tweed, and so corduroy is a better match. 
The trousers worn here are from my Ettore de Cesare cord suit, and the green is definitely a darker, browner shade, which works well. Just as good are the trousers I recently had made by Whitcomb & Shaftesbury in this dark-brown cord, which is equally muddy. 
It's no coincidence that they're the browns and greens I like wearing myself anyway, and recommended in the 'cold-colour capsule'. 
In that selection, black was more of a secondary colour, for the occasional knit or polo shirt, which makes sense in a capsule as it's less versatile. But when black takes centre stage, it makes sense that the same colours work around it.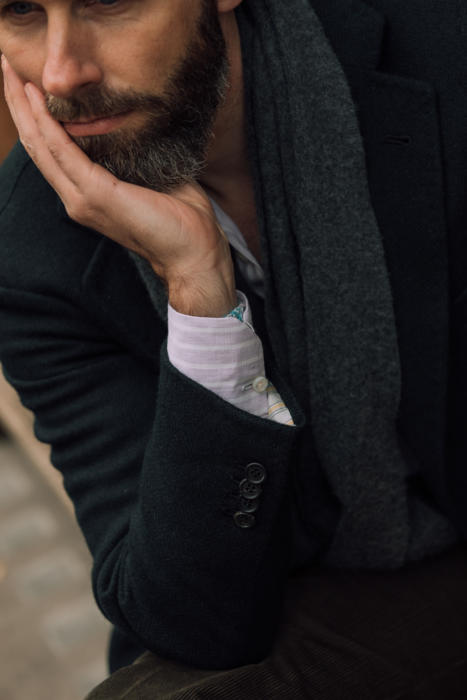 However, in those kinds of combinations my default shirt is normally white – against a black jacket, white looks rather too stark. 
Cream is nice, but looks quite formal – like the colours of evening transposed into different materials. 
What works well is pale colours like pink, purple or yellow, illustrated by the lilac stripe I'm wearing here. Or washed-out blues like denim and chambray. 
A stripe is good because it softens the contrast created by the colour – plus it's nice to have some pattern if you're not going to wear a tie or a pocket handkerchief. 
Denim and chambray create similar visual interest with their texture and fading. Fading in particular both creates interest and softens the colour. Try a blue-poplin shirt with black tailoring and you immediately see the difference. 
For shoes, black is easy as it picks up the jacket, such as these cordovan tassels. The dark-taupe socks from Anderson & Sheppard I've recommended before, a colour always seems to add some interest without standing out. 
The scarf is my Arran from Begg & Co, in dark grey. You could be more adventurous with the scarf, but I like how tonal it is with the olive and the black. 
It's also nice to have an accessory like a scarf when there's that lack of tie or handkerchief. In fact, I'd go as far as to say I should always wear one, when the weather at least vaguely justifies it.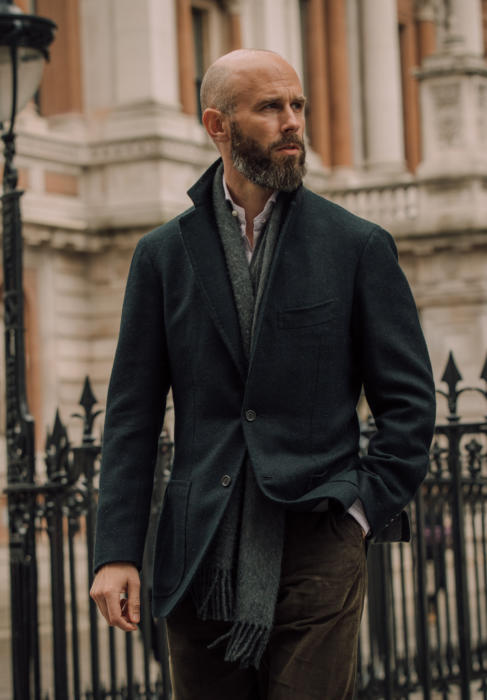 I should also say that the jacket from Jean-Manuel is great: well fitted, shapely but comfortable, and exactly the same as the cream linen I reviewed last year. 
The last point should be a given, but of course we know that makers can vary, particularly with bespoke or handmade MTM. Jean-Manuel should be praised for his consistency as much as anything else. 
A black tailored jacket, in conclusion, is not something I'd recommend to a reader just starting out, or with only a small tailored wardrobe. It is an edge case, an interesting direction.
But I'm pleased this one does genuinely offer something different. Too often when I've seen black jackets in the past, I've thought the wearer would look better with a dark navy, if they wanted to be smart, or a dark brown, if more casual. I don't think that's the case here.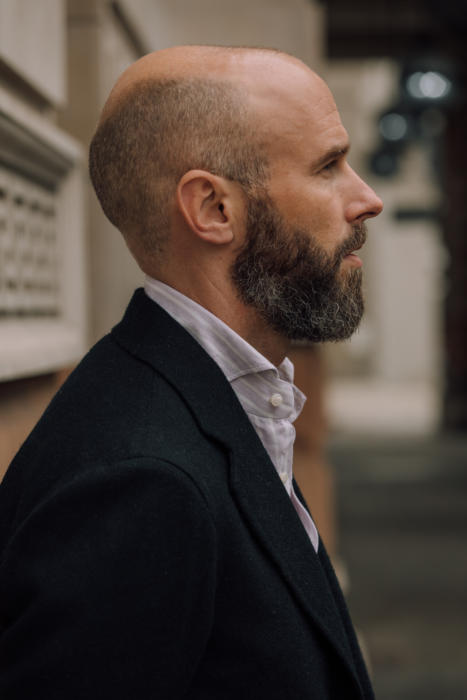 Cloth: W Bill shetland tweed – Classic Shetland Collection, 12/13oz, WB12125
Photography: Jamie Ferguson
Reposted from www.permanentstyle.com
Related