The Best NFT Market Crash Memes
The NFT market is currently loaded with 3Ms: money, media attention, and memes. Well, maybe not so much of that first one at the moment. The NFT ecosystem is a lot like the stock market. It has ups, and it has downs. Sadly, we are currently in the midst of a bit of a down — which is why it's always important to never invest more than you can afford to lose.
But there is a bright side. When money goes down, the memes go up. 
When news related to a dip in NFT sales starts circulating, the internet becomes flooded with tons of related NFT memes. From the 'crypto taxes meme' to the famous 'Gary Vee smirk,' the best NFT memes all have an underlying meaning that resonates. Hard.
So, to entertain you during these trying times, we have handpicked some of the best NFT market crash memes. Oh, and in case you want to see some of the most famous memes that have been sold as NFTs – we got you covered there as well.
Welcome back to work "Diamond hands" meme
'Diamond hands' is a term used for people who have high-risk tolerance, especially for volatile assets like stocks, cryptocurrency, and NFTs. Many people who have been financially benefited from the boom in NFT and crypto sales consider market crashes to be temporary phases, and they expect a fast recovery. 
Others mock this mindset, and that brings us to the meme shown here. Many internet users and brands are posting this meme, sarcastically welcoming those hit hardest by the NFT crash back to work.
The dip of the dippity dip dip meme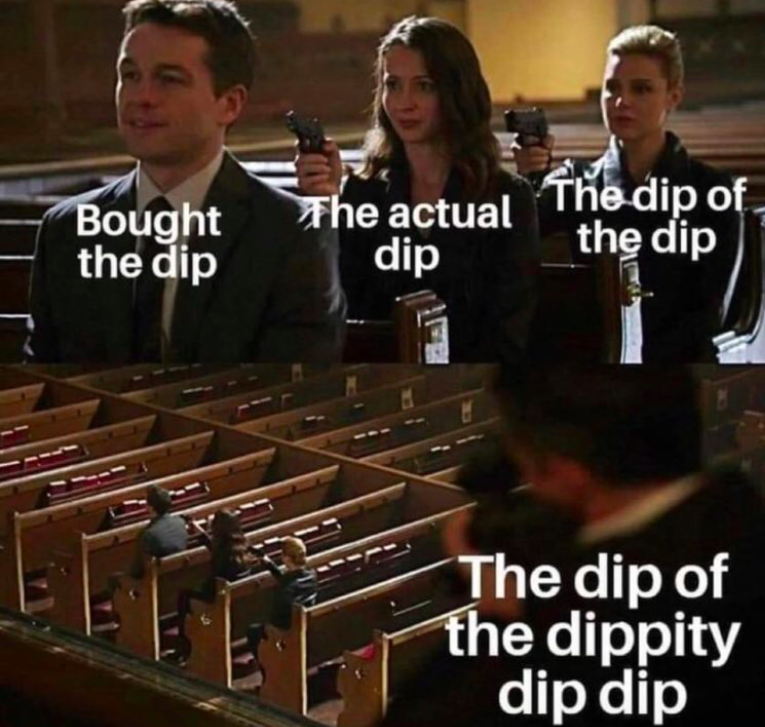 After NFT prices tanked in February of 2022, many users were expecting a boom in March. But that didn't happen. Although the trade volume showed some growth in April, crypto enthusiasts are still waiting for that big jump in NFTs that will satisfy their wallets.
NFT mfs rn meme
NFT investors generally expect great returns, and many of them often receive more than their desired ROI (return of investment). However, this is not always the case. And at the moment, many NFT collectors are fiercely clinging to their last lifelines – those few NFTs that still hold value.
Dude check out those mountains meme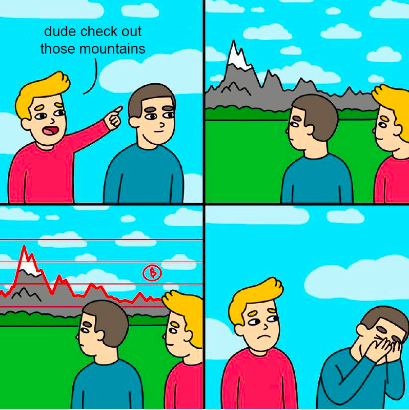 Isn't this one of those 'that's deep' memes? The mountains in this meme represent the shape of the crypto market charts formed after the successive drops in bitcoin prices and NFT sales. Whereas the man in the blue shirt depicts the mental state of crypto asset holders after the price drops.
A matter of perspective meme
Guido Di Salle is a photographer who sells some of his works as NFTs on OpenSea. Prompted by the recent market dip, he recently posted a sarcastic tweet: "Honestly it's a matter of perspective: What was once a 50E NFT is now almost free." His tweet is now being seen as a hard-hitting meme by many users who also have been affected by the decline in NFT prices. 
People getting into crypto in 2021 meme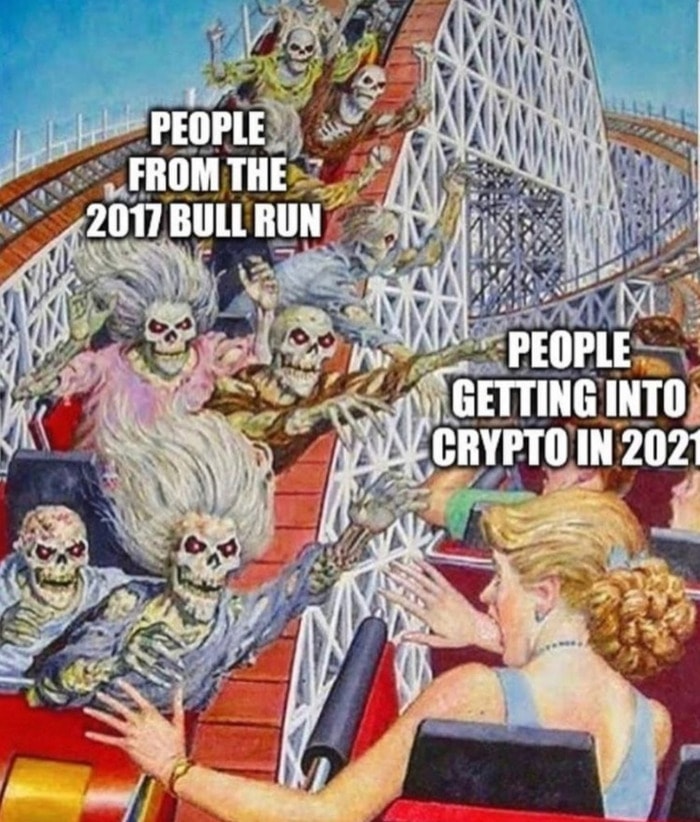 Crypto assets like bitcoin came into the limelight for the first time in 2017, when there were no regulations and taxation on these assets. So many investors ranging from cab drivers to tech entrepreneurs started using bitcoin to participate in initial coin offerings (ICOs). Investors were pouring a lot of money into ICO gamblings as they believed the returns would be huge. 
Unfortunately, that didn't happen, by mid-2018 almost all the ICOs were facing losses, and eventually, many investors lost their money. The 'People getting into crypto in 2021' meme references the 2017 bullrun and takes a jibe at the crypto investors who started investing in NFTs after the boom in 2021 in hopes of becoming rich.
Why everyone is tripping, I'm way up meme
You may have heard the saying "always stay positive." Given the current market, some NFT holders have had to go to extreme lengths to make this happen. The 'way up' meme is a perfect example of this – sometimes, staying positive is just ain't easy. 
I miss BAYC At 0.08 meme
Bored Ape Yacht Club (BAYC) is one of the most popular NFT projects ever. Back in April 2021,during its NFT pre-sale event, all the apes were available for just 0.08 ETH ($192 at the time). Today, single apes have sold for as high as $3.4 million, with floor prices at 99.99 ETH ($206,000) on OpenSea at the time of writing.
The "I miss BAYC at 0.08 meme" is a reference to the initial project launch. As floor prices continue to fall, NFT enthusiasts are using the initial 0.08 ETH price to take a jibe at the prices through the meme.
WeWork dude in shambles meme  
After its failed IPO release in 2019, WeWork — which was once ranked among the most valuable startups in the US alongside Uber and Airbnb — lost about $37 billion in value.
Considering this significant loss, the coworking spot is a fitting location to see your portfolio tank. After this meme was posted, Twitter sleuths went to work trying to determine what exactly was in this man's portfolio, and of course, offering their empathy.
Reposted from: nftnow.com
Related