Your Tattoos Can 'Live Forever,' Thanks to NFTs
NFTs have enabled artists to interact closely with their audience, develop their own communities, exercise ownership of their work, and generate a fair income by selling their art without any middlemen. The unprecedented rise of NFTs in the post-pandemic years has strengthened the crypto market and empowered painters, animators, independent musicians, and various other artists across the globe. Now the next stop for NFTs is the tattoo industry.
American tattoo artist Scott Campbell — who has tattooed celebrities including Robert Downey Jr., Courtney Love, and Howard Stern — has joined hands with design studio CTHDRL to bring NFTs into the world of ink. On Friday, May 6 at 3 PM (ET) Campbell and CTHDRL are launching a unique NFT gallery named Scab Shop. As part of its Season One release, the gallery will auction tattoo designs from 12 experienced and highly-talented tattoo artists as 1/1 NFTs throughout May and June.    
Scab Shop NFTs will live forever
On April 7, the Scab Shop community released 5,000 Scab Shop Passes. In an official press release, the project creators revealed that only the Scab Shop Pass holders would be able to place bids during their upcoming NFT auction. Every Scab Shop Season One NFT holder will be eligible for a single tattoo appointment with the artist who originally created the NFT design. The artist will render the NFT art as a real tattoo on the buyer's skin. This tattoo will serve as live proof of the Scab Shop NFT ownership.
While tattoos might already be perceived as permanent to ink fans, combining them with an NFT element adds extra longevity. Campbell explains tonft now, "People always connect tattoos with the concept of permanence, but I think that's because we've gotten in the habit of thinking of ourselves as permanent. I've worked in all sorts of mediums with my art: painting, drawing sculpture…Tattoos are probably the most ephemeral of all of them. […] This project adds a layer to all those symbols and ideas that people choose for themselves. A layer that isn't vulnerable to sunburn or even death."
The artists behind the work
Apart from Scott Campbell, the Scab Shop gallery auctions will feature 1/1 NFT tattoos designed by the following Genesis artists:
Though these artists have already each made impressive names for themselves in a competitive industry, Campbell believes NFTs have the ability to boost them even further. "The notion of tattoo designs being collected and preserved in the same way that other fine art mediums [are] serves to elevate the industry as a whole. The mechanism of NFTs can truly help a tattooer grow from a craftsperson to a fine artist in that the work is appreciated and valued for the idea and creativity, not just the skill required to apply it to skin," he explains.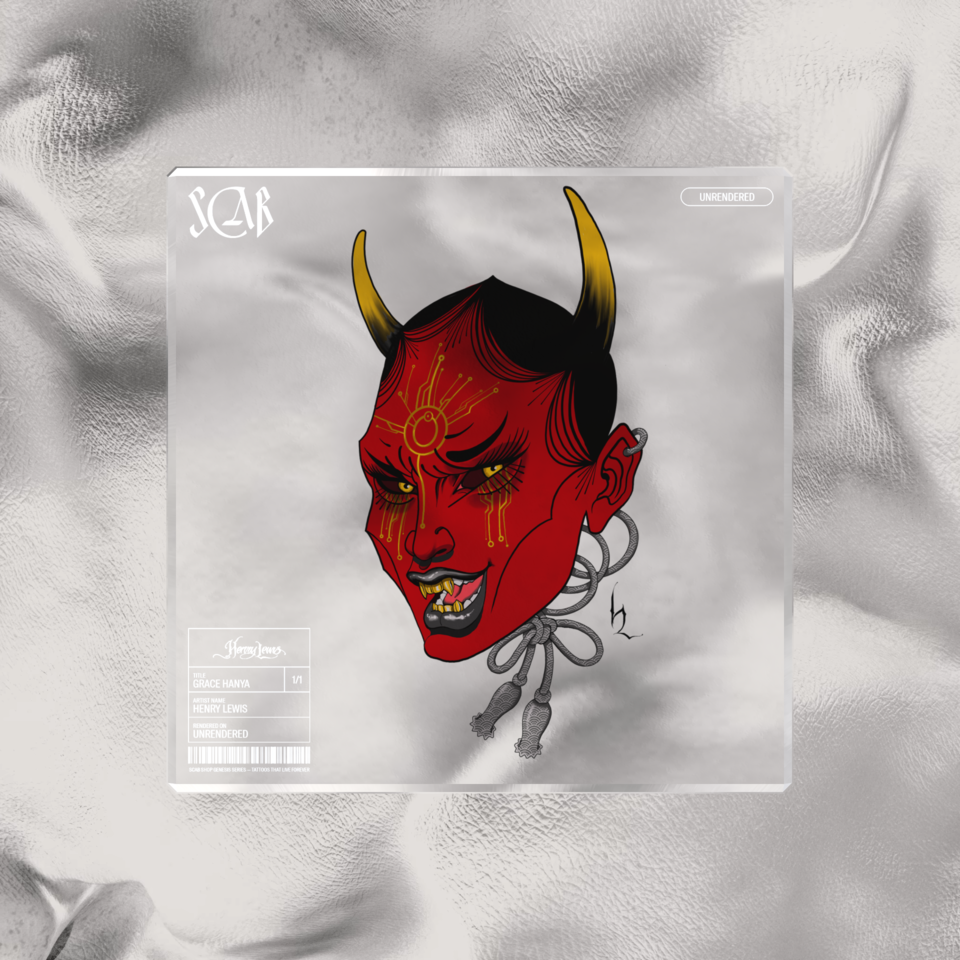 Beginning of a new era
Tattooing has been around since (at least) the Neolithic era. It's an industry that prides itself on tradition, with some artists still working with ancient methods. Yet it's also an industry full of adaptable artists who pride themselves on honing new skills and developing novel techniques. Which is why it was only a matter of time until tattoos made their way into Web3.
As we spend more and more time in digital worlds — and eventually, the metaverse — it will become as important to curate our online identities as our physical ones. Scab Shop hopes to play a large part in this personalization.
Campbell explains, "Tattoos serve a big part of how people take control of how they see themselves and how they are seen by others. I think it makes sense that the concept of tattoos could be carried across that physical/digital membrane along with everything else.
"We are taking the most pioneering tattoo artists in the world, each with 10-20 years of building audiences and bringing that culture to Web3. Our biggest focus is bringing all that analog passion and making sure the digital version of it is as powerful and moving as the flesh and blood version."
Reposted from: nftnow.com
Related