A shopping guide to ready-made trousers – Permanent Style
By Manish Puri
If my years of reading Permanent Style have taught me anything, it's that few things make a man look better than a tailored jacket. If my years of having eyes have taught me anything, it's that few things make a man look worse than bad trousers.
A good pair of trousers are the pedestal for the rest of your outfit to be displayed upon. A smartly assembled set of trousers will make the simplest of outfits look chic and the most elegant of outfits look effortless.
And frankly these days well-crafted trousers made from superior fabrics are neither a bespoke luxury nor particularly taxing to find. So, it's the aim of this guide to a compile a list that helps you choose from over a dozen brands selling some of the best ready-to-wear (RTW) tailored trousers on the market.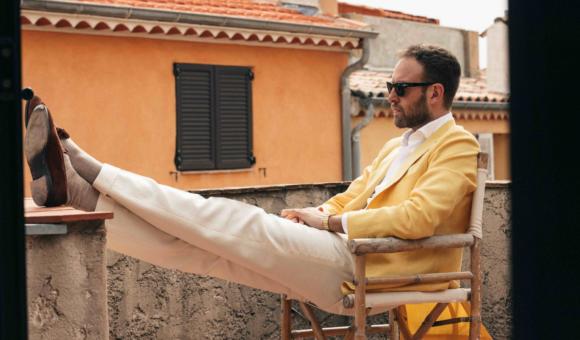 Fit and priorities
I find buying anything RTW involves some tension between what you want (the style) and what suits your body best (the fit). That tension is something the most skilled bespoke artisans can dissipate, but in RTW there is often a compromise. We've all bought something that, if we're completely truthful, doesn't fit that well but just looks banging.
When it comes to RTW trousers, I've learned the hard, expensive and uncomfortable way that there is little room for compromise: you have to prioritise fit.
Even the most perfectly styled trousers will finish their life as nourishment for moths if they cut in the crotch, cling mid-calf or slice the belly after a burger. And so 'best' in this guide (perhaps more than any other I've written) boils down to what is the best fit on you – and readers' comments on the ones they've tried will be invaluable here.
To help you with this, I'm a 33" waist (which is between the standard sizes usually offered) and so I tend to take a UK 34"/IT 50 and make them smaller in the waist if needed, which is something most tailors would recommend over making tight trousers bigger.
Beyond the fit, you can rely on the brands we've selected to make trousers with many of the hallmarks of quality tailoring: enough fabric inlay to allow simple alterations, unhemmed legs (so you can pick your preferred inseam and cuff style), a split waistband with curtain, side adjusters and some handwork.
So, let's look at the brands, which are presented in ascending price order.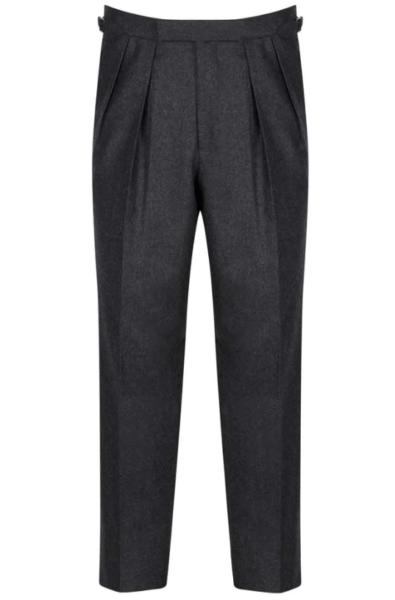 Sometimes while researching these guides I find myself lost among small differences: Brand A has slanted pockets and a 11" rise, whereas Brand B has straight pockets and a 12" rise.
Don't misunderstand me, I know our community flourishes in these differences and many of us would fight to the death (or at least until the pubs close) over fractional changes to cuff widths and cloth weights. But sometimes it's damn refreshing to try a product which is truly distinctive.
Kit Blake is the only brand in this guide dedicated to making trousers only. Their classic, Savile Row-inspired designs are made in Italy from British and Italian cloths. Their Aleks model (worn by André Larnyoh below in his 'How to Dress Like' piece) is the brand's signature style and features:
A high-rise – the highest of all the brands in this guide
Double forward pleats – the only brand in this guide to favour them over reverse pleats
A generous leg and subtle taper – the widest leg of all the brands in this guide
Simon has written extensively on trouser rise, pleats and proportion, and I'd urge readers to have a look at those articles to better appreciate how they might work for your physique and tastes.
My tastes have been dictated by my physique. If I wear low to mid-rise trousers I experience a form of coastal erosion, where the tides of my belly gently push and erode my waistband line during the day, with the only remedy a surreptitious trouser hoick. My personal conversion to higher-rise trousers was something of a 'eureka' moment.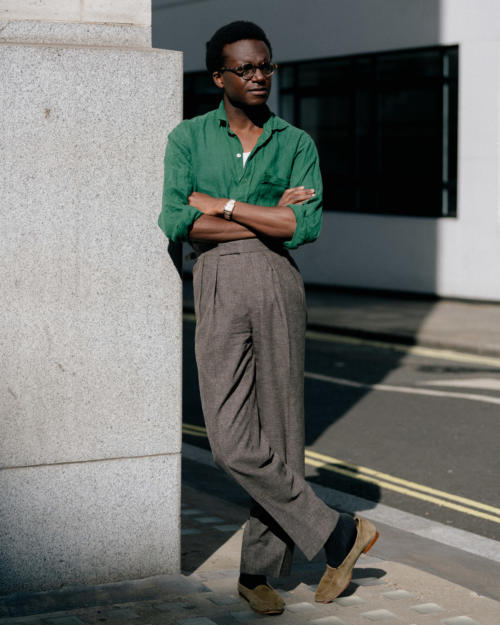 When it comes to pleats, I know Simon and others have had issue with pleated trousers splaying open even when stood stock-still, but I had no such problems with the Aleks. One factor may be the depth of Kit Blake's – at 2.8cm the pleat is deeper than any of the other brands in this guide by at least 0.8cm.
In terms of fit, the Aleks is slightly small-to-size and so, as someone who is usually between sizes, I found the larger size (34") to be a fantastic fit out the box with only the hem needing altering. Of course, if you did need to let the waist out there is ample inlay.
Unusually, there is very little inlay in the leg. However, given the fullness of the trousers, I would, if anything, expect readers to want to take the leg in. Indeed if this is your preference, I would recommend taking a look at Kit Blake's Grant model which, from waist to mid-thigh, is identical to the Aleks but then follows a slightly more tapered line to the break.
In addition to the Aleks and Grant models, Kit Blake carry a single reverse pleat model (Duke) and a flat front model (Caine).
Other options:
At the risk of labouring the point, there aren't too many similar options on the market; but Thomas Farthing (£249 to £285) have a selection of high-rise, wide-leg trousers – although the styling may be too overtly vintage for some readers.
And, although not a RTW retailer, Scott Fraser Collection has a formidable range of high-waisted and pleated trouser styles (£215 to £315).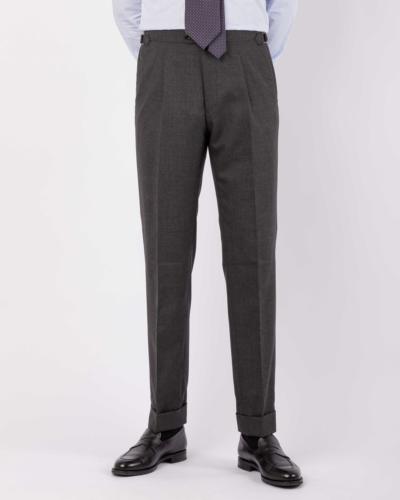 Norwegian retailer Cavour carry a tantalising assortment of high-end menswear brands, but it's their in-house trouser design, the Mod 2, that I was eager to feature in this guide for one reason: variety.
The range of cloths and colours is wider than any other: seven different colours of 340g (12 oz) VBC flannel, seven in baby cord, five in wide wale, five in Brisbane Moss cotton drill, three in VBC/Drapers covert wool, three in Loro Piana denim, two in Holland & Sherry Crispaire, and a partridge in a pear tree. I won't even begin to list the plethora of linen, high-twist wool and summer gabardines that are still available in the 'Sale' section.
The prices vary according to the fabric; Crispaire is £400, but most of the offering retails at £275. The price point looks even more attractive when you consider the trousers boast hand-sewn bar tacks, buttonholes and pick stitching – although I appreciate that this level of finishing isn't necessarily a deal-breaker for many people.
In short if the Mod 2 style and fit works for you then I imagine one could build a balanced and versatile trouser wardrobe with minimal effort.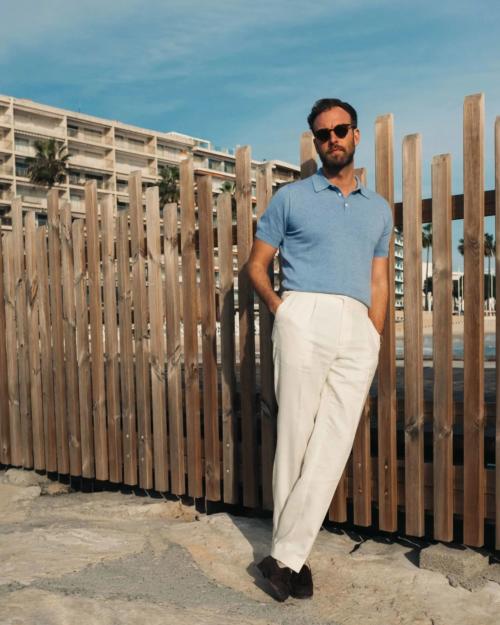 I'd summarise the style as fuss-free with a sharp silhouette – mid-rise, slim fit and standard front closure. The bulk of the Mod 2 trousers come with a single reverse pleat, but some cloths (like the cotton drill) are also made up in a flat front.
I tried pairs in size 50 and (apprehensive of the slim fit) a size 52. I found 50 a little tight in the waist and crotch but not unbearably so. However, the fit through the leg was too close for my tastes. Sizing up to the 52 was an improvement in almost every respect: very comfortable across the seat and crotch with a better fit through the leg – still slim but not tight. It was (as you'd expect) loose in the waist but I'd be more confident taking in one element on the 52 than trying to let out two or three elements on the 50.
Apparently, the typical Scandinavian gentleman's tastes is for a slim leg but, if you lean fuller, the Cavour trouser has enough inlay to widen the leg by 5cm – more than any of the other brands in this guide. Sizing indecision is also alleviated by Cavour's free shipping for purchases over £220 and free returns.
Other options:
Natalino (£135 to £195) is certainly worth exploring if you like Cavour's pricing and fabric selections (both brands use VBC 12oz flannel and Brisbane Moss drill cotton) but want something with a higher rise and a little more room through the leg. Natalino also sell their trousers unhemmed and hemmed, to either a 30" or 32" inseam, which is a blessing for any of the poor souls who don't have a tailor on speed dial.
Yeah, these were good.
Over the years Anglo-Italian have built up a loyal community that values their consistency of palette, product and service; their RTW trousers don't disappoint in any of those regards.
The palette – cloth and colour options – satisfies the requirements of most classic wardrobes: soft flannels in the winter (sometimes woven in England and sometimes, you guessed it, in Italy), high-twist wools for the summer and various weights and finishes of cotton all year round.
I suspect the silhouette will appeal to a wide cross-section of PS readers – comfortable in the thigh with a gentle taper to the hem.
I found the trousers shaped elegantly over the hips rather than hug them tightly, which makes all the difference if you're forever jamming your hands in and out the pockets. On that subject, Anglo-Italian's pockets are slanted with mouths cut to follow the gentlest of curves; a lovely detail and one that further benefits the pocket jammers.
But it's the service that really sparkles. All in-store trouser alterations are free. Hemming, nipping the waist, letting out the seat, sharpening the taper: all included in the price, which makes this an extraordinarily good value product. What's more Anglo-Italian's turnaround time for alterations is a few days; to put this into context, my preferred central London alterations tailor currently has a turnaround time of six weeks.
What's fascinating is how the free alterations remove, to an extent, the fit impositions from the style-fit conundrum I shared earlier.
For example, Anglo-Italian's trousers are true to size which meant I could get away with a 48 if I let out the seat and crotch, or the 50 if I have the waist taken in. That decision can now be dictated by my style preference – do I want the slimmer profile of the 48 that sits level with my hip, or do I want the mildly fuller 50 that sits just on the top of it? Champagne problems.
Other options:
Another high-quality, Italian option is the family-run Rota (from €300 upwards). The only reason for not giving them a more prominent place in this article is that their offering is slightly overwhelming and would probably need a guide to itself. There is a cornucopia of fits, styles and cloths on their online shop as well as through other stockists such as Frans Boone, Gabucci, Cavour, Michael Jondral, The Armoury and No Man Walks Alone – many of whom have worked with the brand to develop exclusive models.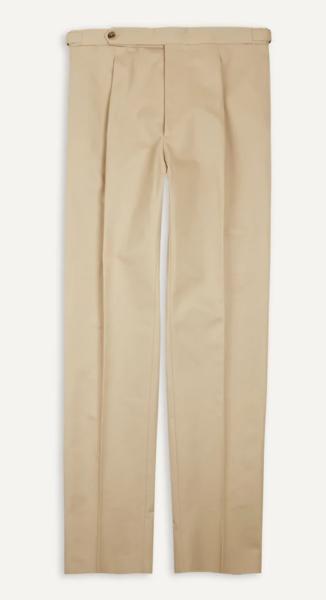 Sometimes the best way to define something is via comparison. And so, if the Kit Blake trousers are high-rise and full and Cavour's are mid-rise and slim then I'd place the Drake's house style somewhere in between: an upper mid-rise (is that a thing?) with a classic line through the thigh.
Made in Italy, Drake's trousers are styled either with single reverse pleats and aged side adjusters (which I prefer to shiny silver and black adjusters) or with flat fronts, belt loops and a prong keeper – a neat way of demarcating formality. A stylistic touch is the extended tab waistband.
The cloth options are judiciously chosen for wardrobe building: grey flannel, olive linen, brown corduroy and stone cotton. Indeed, if you were so inclined, you could purchase Simon's five smart trouser capsule wardrobe in one fell swoop from the website this afternoon – not that either of us would advocate such hasty accumulation.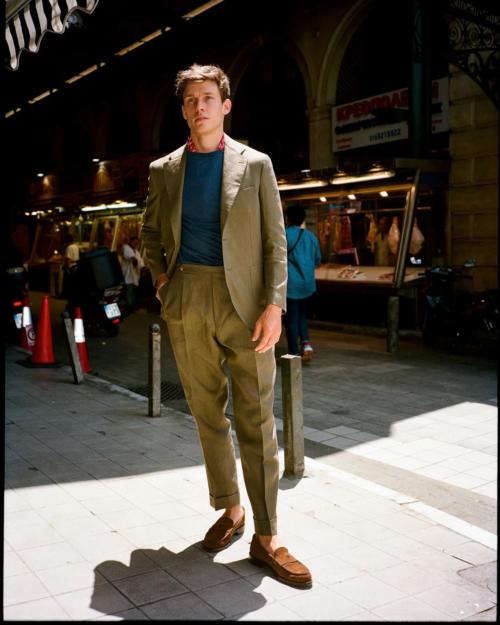 I found the fit to be true-to-size; wonderful news if you're a standard size and maddeningly close to great for an in-betweener like me. The size 34 I tried was a little big in the waist so would either need altering or a mighty tug of the side adjusters to sit right.
As I mentioned the fit through the thigh is quite classic, but it does taper quite sharply to the hem (which you can see in the Lookbook shot above). This is likely to be a dream pairing for some – comfort where you need it with the eye moving down to a sharp break above the shoe – and reminiscent of Slowboy's utterly charming illustrations. I found it slightly too contrasting a transition and would prefer either a faintly narrower thigh or a fuller calf.
Drake's trousers can also be bought as made to order and made to measure; prices start at around £495 for the former and up to £795 for the latter.
Other options:
With a high-rise and classic fit Berg & Berg's Arnold trousers (single pleat) and Alf trousers (flat front with belt loops) are comparable in style and fit to the Drake's trousers. For good measure they also sell a double pleated model, Antonio. The seasonal fabric choices aren't as diverse as Drake's but there's more than enough to pair with sports coats and casual getups (from €295 to €305).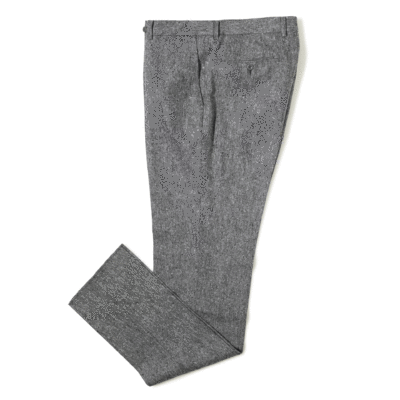 A few years back Simon looked at the various trouser models stocked by The Armoury. For this guide we wanted to focus on The Armoury's in-house trousers which, like their jackets, are made by Ring Jacket and available in two models.
Model A is a flat-fronted trouser that is sold separately or as part of single-breasted suits. Model B is a single reverse-pleat trouser that is sold separately or as part of double-breasted suits. Both are half-lined and have a coin pocket secreted below the waistband.
Whilst most discussions on the benefits of pleats tend to centre around their facility for comfort, The Armoury's founder Mark Cho made a couple of interesting aesthetic observations about the Model B pleats in one of his Instagram Q&A sessions.
The first is that, compared to flat-front trousers, a pleat tends to emphasise and lengthen the central crease line right up to the waistband and this visually elongates and slims the leg. The second is that whilst the pleat in the Model B increases the volume in the top half of the trouser, it also deceives the eye into thinking the trouser is more tapered than the Model A – despite both models being almost identical from the knee down.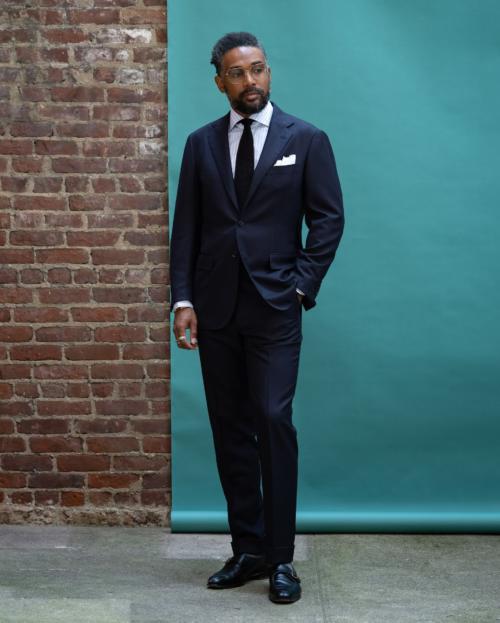 The Armoury is unique in this guide for having belt loops on both their flat fronted and pleated trousers, which comes from a desire to position them as an accessible entry-level trouser. But, upon request, they can remove the belt loops and use the excess trouser length to make side adjusters. By the way, The Armoury don't charge for hemming trousers, although it's best if this is arranged in-store rather than online to avoid a trouser being irrevocably cut too short.
The fit of the Model A and B is, in my view, closer to mid-rise (although the website describes them as high-rise) with a slim leg; not entirely dissimilar to Cavour's trousers but not as trim as the Mod 2. And like the Mod 2 I found the size 50 a little tight across the hips and in the fork.
I suspect a size 51 would be perfect were it available (alas it isn't) and so I'd recommend anyone in doubt to try a size up. Failing that there is always the option of The Armoury's MTO and MTM programme (starting at around $850 and $950 respectively).
Ring Jacket only use handwork in the areas where they feel it will improve quality and durability, so here there are machine-sewn buttonholes but hand stitching inside the waistband and fork.
Other options:
North American readers may want to look at Canadian brand Spier & Mackay ($108 to $228). Whilst the level of finishing certainly won't be to the standard of The Armoury/Ring Jacket there's no doubting the appeal of the breadth and depth of Spier & Mackay's range: loads of fabric options, in-between/half sizes (praise be) and two trouser fits – slim (which is similar to The Armoury's fit) and contemporary (which has a higher rise and fuller silhouette). Whilst I've not had the chance to try them, I have noticed an increase in the number of PS comments recommending Spier & Mackay to other readers looking for a budget option.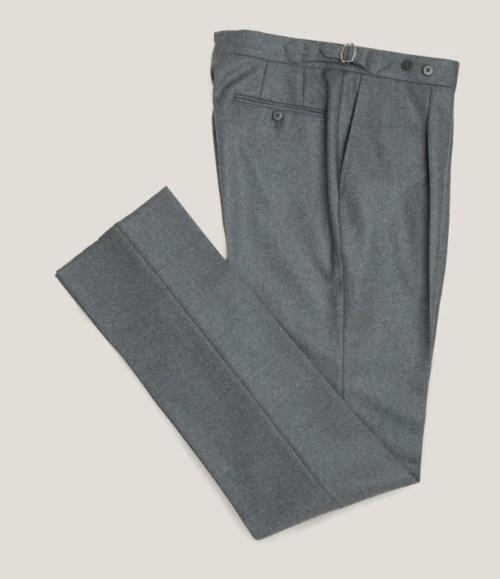 The foundation of Pommella remains bespoke trouser making but under the stewardship of Gianluca Migliarotti the brand has slowly developed a couple of great RTW options.
The first is Pommella RTW, which is made to the same exacting standards and handwork as their bespoke (full disclosure: I own a few pairs of the Pommella bespoke and absolutely adore them). You can also find a nice selection at The Armoury, who have developed a couple of exclusive models: the PA1 and the AUS1. I'm rarely enamoured by unorthodox waistbands, but I must confess I find the D-ring belted closure of the PA1 quite elegant – especially in the verdant Fox Brothers Palazzi flannel that is exclusive to Pommella.
The second option is PML, the home for easy-going polos, unstructured tweed jackets and, of course, trousers which are machine-made and hence cheaper.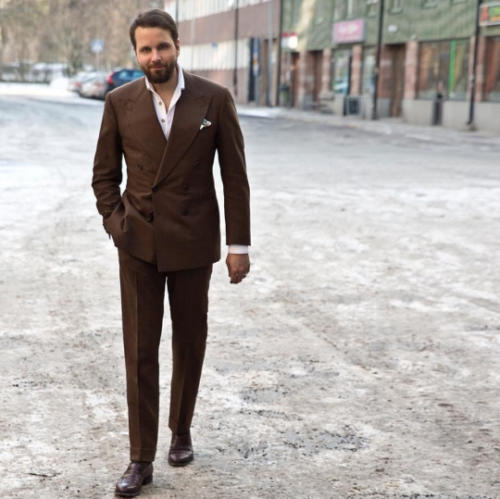 Construction methods apart, the Pommella and PML trousers are identical in fit (size up if you're in any doubt) and style: medium rise, nicely tapered, with a coin pocket, side adjusters, brace buttons and a waistband curtain made from Thomas Mason shirting fabric.
In keeping with Neapolitan tradition, the trousers generally come unlined unless the fabric absolutely demands it. Pommella's trousers are the only in this guide to have a button fly; an illustration of their commitment to quality detailing as well as something that can help the trousers look cleaner – especially when seated.
Beyond the calibre of the finishing, what I think sets Pommella/PML's RTW apart is the curatorial eye of Gianluca. There are cloths, textures and colours here that you won't find elsewhere: the aforementioned Palazzi flannel, a deep but muted red cotton and a Zegna off-white denim that has attained almost mythical status amongst my friends that have it. Even the staples have a point of difference – the mid-grey flannels, for example, are a couple of ounces heavier than everyone else's.
Other options:
If it's handmade Neapolitan trousers you're after, then you might also consider RTW from Ambrosi Napoli (around £755). Their signature detail is a hyperextended waistband which arrows around the belly towards the leg's side seam. They're not widely available online but Cavour stock some as does The Signet Store in the Philippines.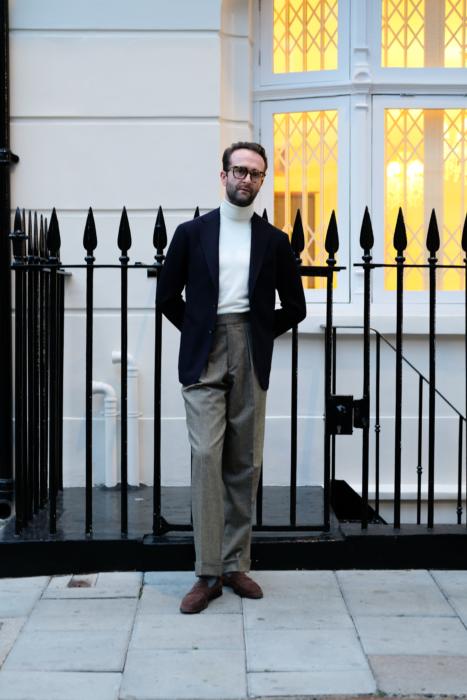 The Index
The index is designed to collect the key information of each of the trouser models featured. To aid comparison we've shown the waist, rise and hem for size UK34/IT50 – measurements taken from the brands.
Prices are correct as of time of writing.
Brand
Model (Size)
Price
Pleats (direction)
Zip or button fly
Side adjusters or loops
Back pockets
Waist (cm)
Rise (cm)
Hem (cm)
Kit Blake

 

Aleks or Grant
£255 to £295
Double (forward)
Zip
Side adjusters
and brace buttons
Two
44
26.5
22.75 (Aleks) or 20.25 (Grant)
Cavour
Mod 2
£250 to £400
Single (reverse)
Zip
Side adjusters
Two
44
24.5
18.5
Anglo-Italian
House
£305
Single (reverse)
Zip
Side adjuster
Two
45
26
19
Drake's
House
£305 to £495
Single (reverse) and flat fronted
Zip
Side adjusters (on pleated) and belt loops (on flat fronts)
Two
45
25
19.5
The Armoury
Model A or Model B
$350 to $550
Single (reverse)
Zip
Belt loops
Two
44.25
24
20.7
Pommella and PML
House
€420 to €700
Single (reverse)
Button
Side adjusters
One
45
22.5
20
Manish is @the_daily_mirror on Instagram
Reposted from www.permanentstyle.com
Related