Bespoke Anto shirt from La La Land – tucked and untucked – Permanent Style
In the continuing vein of exploring sports shirts – casual, vintage-styled, often rayon or silk – I chatted a couple of months ago to my friend Jack Sepetjian, who runs Anto shirts in LA. 
I first got to know Jack when he spoke at our Shirtmakers Symposium during Pitti, in 2018. Jack makes for many celebrities in Los Angeles, but also does a lot of film work. A large portion of his shirts are made for costume directors on films like Casino, Ocean's Eleven or La La Land. 
It was the latter that sparked my interest recently. I was rewatching the film and noted Ryan Gosling's sports shirt in it – cream, what looked like silk, worn tucked and untucked, with trousers and with a suit. It looked like an interesting take. 
I thought Anto might have made the shirts for that film, and it turned out they had. I then asked Jack to make me one in the same model. I took my own measurements and the result turned out well – perhaps helped by the fact that Jack and I had met in person previously.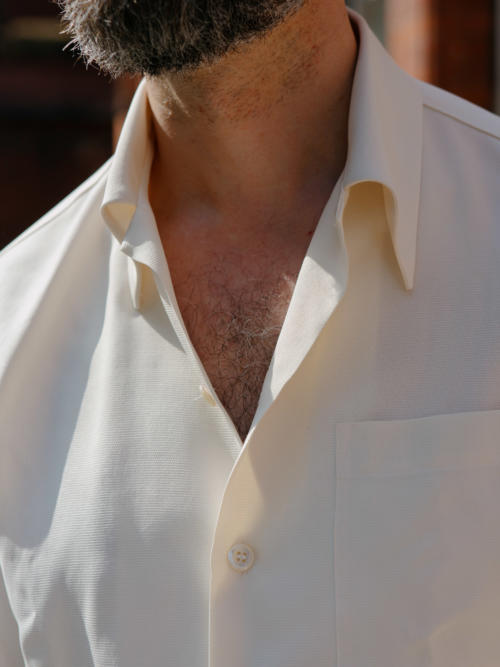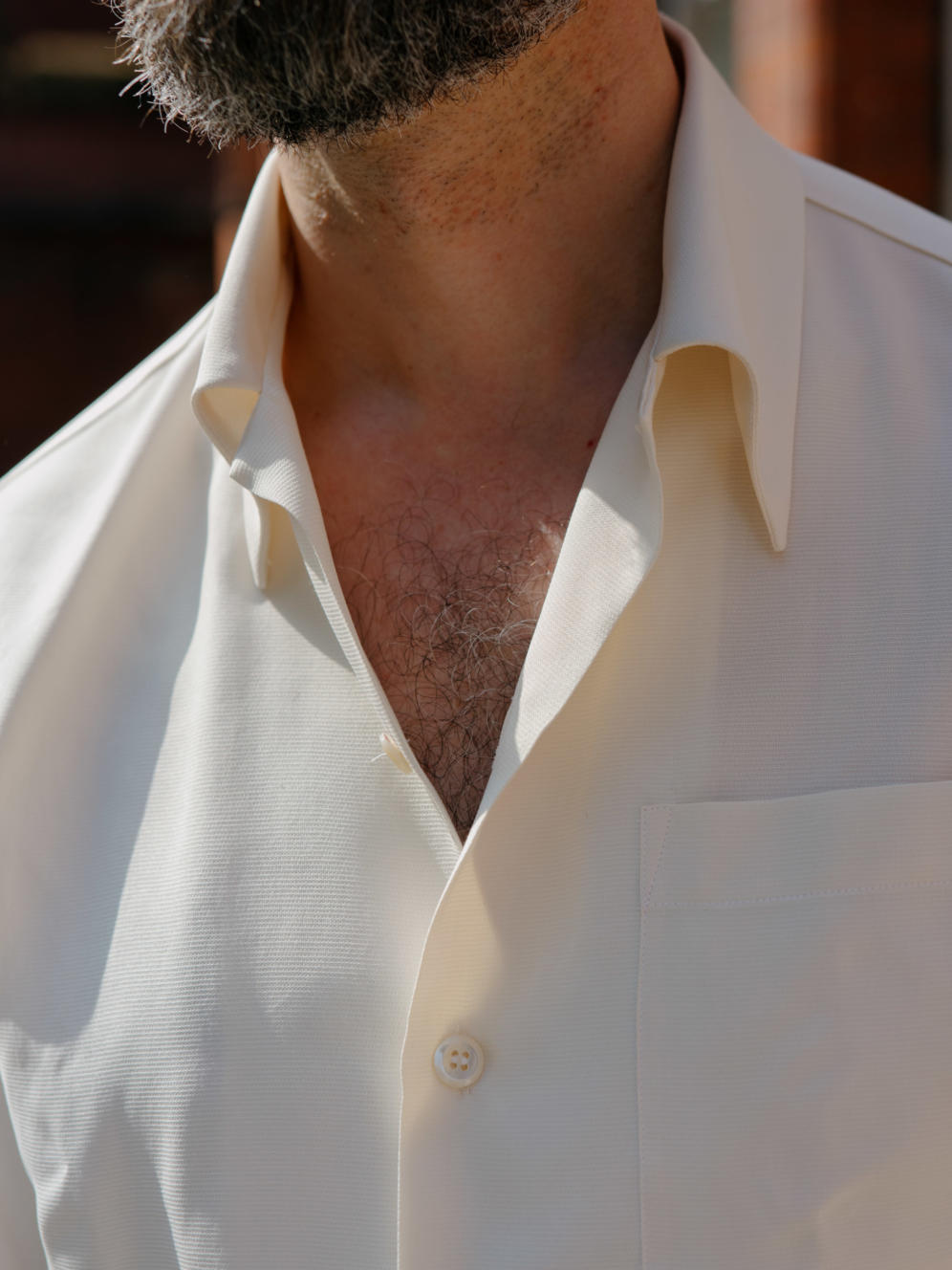 The shirt is interesting to cover as a product, as a review. But it's also a good excuse to talk again about tucking and untucking, with a jacket and without, given that's how the shirt was styled.
I've deliberately worn the shirt here in all those different permutations, to enable some discussion. 
The shirt itself is made in an unusual ribbed silk, with an almost crepe-like texture. But it is also densely woven, which means it holds its shape well – retaining a clean, smarter look when untucked. 
The latter, I'm increasingly realising, is a key reason silk or rayon are good for this style of shirt. They will always drape better than linen or cotton, and even if they have to have a silkier look as a result, it doesn't have to be the satin finish people most commonly associate with silk: it can be more matte, and more textured, as here or with the rayon covered previously.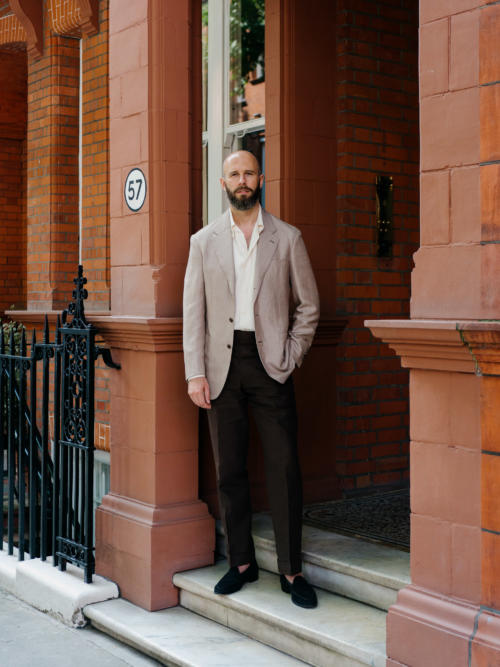 The way of wearing the shirt above is how I would imagine most PS readers will prefer it: tucked in, with a jacket over the top. 
It's certainly the easiest way to wear it, as the unusual aspects of the shirt are partly hidden. And it means the shirt adds a nice, subtle edge to the outfit, rather than being the focus: you might expect a white or ecru linen, but what you get is a slightly floppy-collar silk. It's elegant and unexpected. 
I have struggled with the size of that collar, which was bigger than I anticipated (9cm). However, its shape is nice under a jacket like this, curling around the lapel before tucking neatly underneath it. 
And, when the jacket is removed, the light fusing takes on a little of that tucked-under shape, giving the collar a little roll and pointing it downwards. Both make the length of the collar less obvious.
Still, if I were ever to have another shirt like this made by Anto, I would take a centimetre off the length. I'd be more at ease wearing it on its own.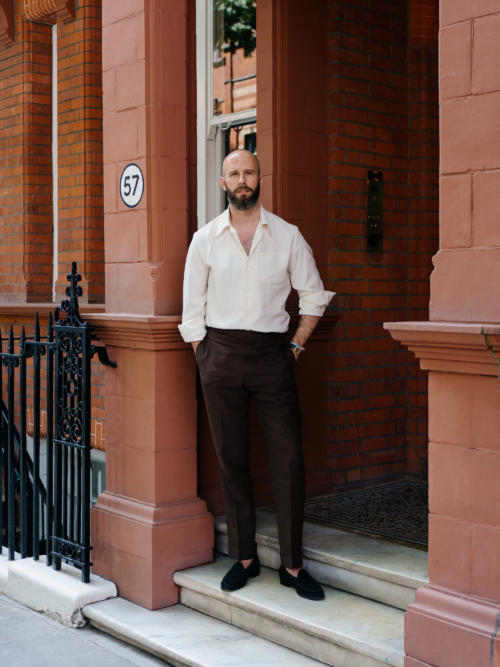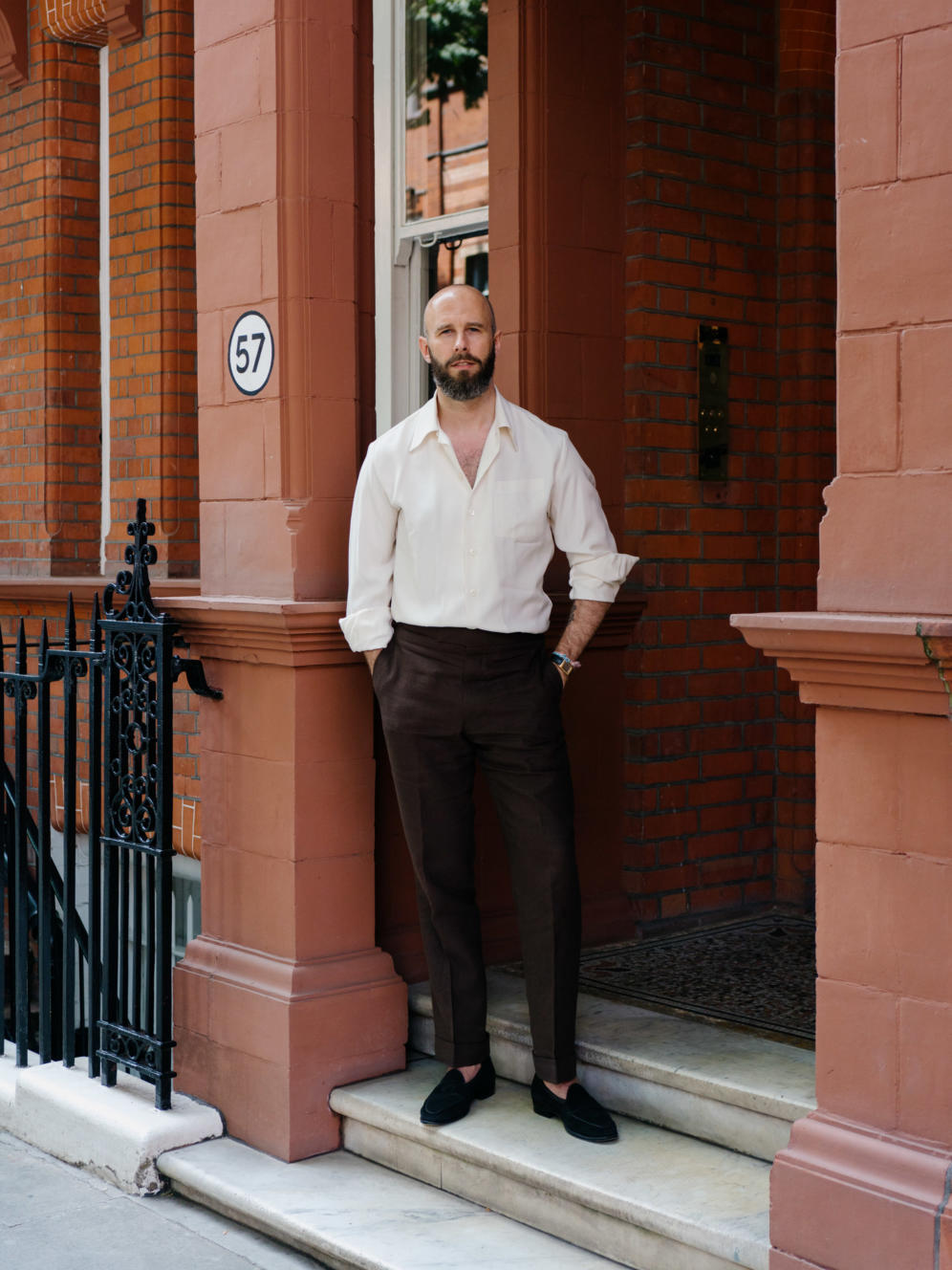 Which is what I've shown in the second outfit iteration, above. 
You can see the size of the collar in this iteration – but with that roll, in an outfit that is clearly a little more dressy and perhaps even evening-y, I think it works. 
I always, always fold back my shirt sleeves when I'm not wearing a jacket; I feel physically weird if I don't, and I do it in exactly the way I watched my Dad do it years ago. 
But there is also a case to be made that it's flattering. Certainly, it helps this shirt look a little more relaxed.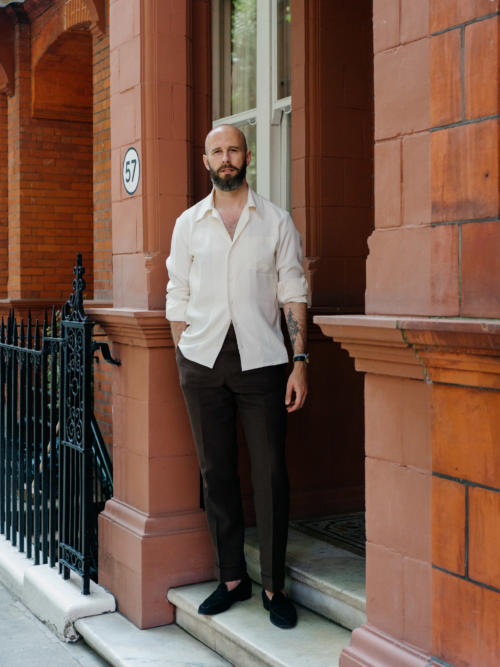 Now untucked. 
Let's get the menswear rules out of the way first. Yes, it shortens the legs; less obviously, it narrows the shoulders (relatively); it also looks less neat, more messy, and you could say less elegant. 
But as with all the rules (which we've covered extensively here) the point is to respect these traditions, understand the benefits that mean they've been passed down, and then decide whether you are about other things more. 
In this case, you might prioritise the fact that an untucked shirt looks more relaxed; you might not place much importance on how physically flattering a shirt is; or you might just prefer the style – and that's always the most important.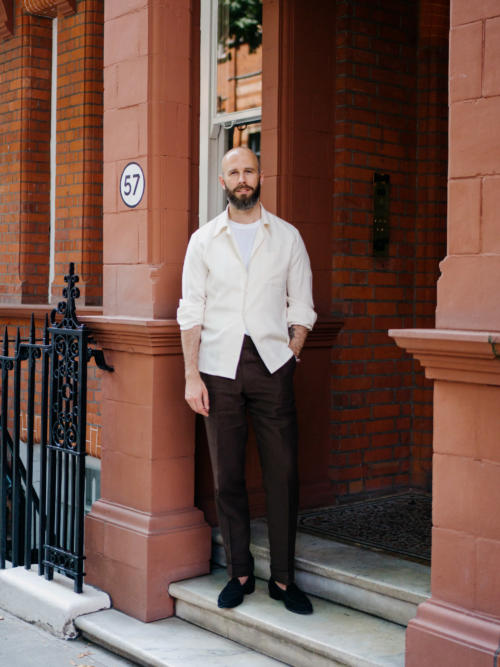 Another option, in order to look more relaxed still, is to wear a white vest or T-shirt underneath the shirt. In this case I've gone with a white T-shirt, because that's what Gosling wears in the film. 
I think this is actually my preferred option with the shirt untucked. Perhaps because the collar is de-emphasised, and perhaps because I can still unbutton the shirt as far as I want, but don't add chest hair to everything else already going on around the neck.
This feels like it might be a nice option for evening drinks somewhere, with friends who are unlikely to be wearing tailored trousers, let alone a jacket.
Last of all, the shirt untucked with a jacket. 
I can see how some people are drawn to options like this, as part of a desire to casualise the suit. But personally I don't think it succeeds, and looks a little sloppy. 
Untucking under a jacket is an easy thing to do, but more subtle things are actually more effective, such as changing the colour, material or collar of the shirt. 
If you want to wear a shirt untucked, I'd wear something more casual over the top, such as an overshirt or knit. But as ever, let me know what you all think below.
We will cover Anto, the company, its history and clientele, in a separate article. 
Anto shirts start at $375, but any fine materials or even checks are more expensive, from $425. A silk shirt like mine is $525. 
They regularly do remote orders, as mine was, with clients taking their own measurements and fittings over video if required. Delivery time is usually eight weeks. 
Other clothes shown: jacket from Brioni, linen trousers from Edward Sexton, Sagan Grand loafer from Baudoin & Lange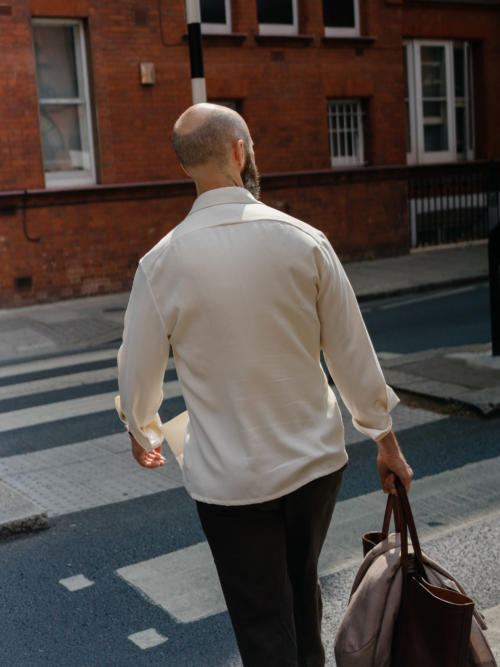 Reposted from www.permanentstyle.com
Related