Everything to Know About the WAX Blockchain, a Hub for Web3 Gaming
The Worldwide Asset Exchange, better known as WAX, is undoubtedly one of the most popular blockchains for non-fungible tokens (NFTs). Heralded as one of the most prominent networks for digital collectibles and virtual items, it's a widely used and highly efficient choice for many NFT enthusiasts. And the blockchain has achieved this reputation despite flying under the proverbial radar, as landmark sales and viral collections on Ethereum, Tezos, and Solana continue to trump WAX in the court of public opinion.
While art NFTs have been proliferated in mass by WAX's competitors, the blockchain has maintained popularity as a host to digitized versions of legacy collectibles like trading cards, figurines, memorabilia, etc. Because of this, many influential brands, including baseball collectibles company Topps, racing giant NASCAR, toy company Hot Wheels, and more, have found a home on the Worldwide Asset Exchange.
Yet, while digital collectibles are king on WAX, the blockchain is itself a frontrunner in a different sector: the realm of Web3 gaming. WAX has surely helped popularize NFTs in parallel with other chains. Still, it seems that a disproportionate focus on bringing Web2 gaming enthusiasts into the metaverse has only served to expand the WAX ecosystem further.
But what is the status of the unique blockchain now, years after its global debut? To find out, let's dive into all things WAX.
What is WAX, and how does it work?
WAX was founded in 2017 by crypto pioneers William Quigley and Jonathan Yantis. Billed as the safest and most convenient way to create, buy, sell and trade virtual (and even physical) items, WAX is based in the Cayman Islands and embodies a mission of global accessibility.
WAX provides its users with access to thousands of decentralized apps (dApps) and a range of unique marketplaces. In addition to general NFT marketplaces, WAX is home to several top blockchain games, including Alien Worlds, Farmer's World, Prospectors, and other innovative play-to-earn games. Since gaming is such a dominant force on WAX, the biggest projects on the chain, out of all PFP and collectible endeavors, continue to hail from the play-to-earn sector.
As a popular platform for a wide variety of assets, WAX is often marketed as the most widely used and heavily transacted blockchain ecosystem in the world. And while its ability to facilitate millions of transactions per day is surely impressive, the chain is also praised for being eco-friendly.
Similar to other high-efficiency blockchains like Tezos and Solana, Wax employs a Proof-of-Stake (PoS) consensus mechanism. With PoS, users stake an amount of their cryptocurrency for the chance to be randomly chosen as a block validator, earning crypto when selected.
By utilizing a PoS mechanism, WAX not only encourages user loyalty but also maintains its position as energy efficient. In fact, WAX uses less than 0.00001% of the energy of Proof of Work (PoW) that chains like Bitcoin and Ethereum take. And beyond their underlying efficiency, the chain also creates carbon offset NFTs, and partners with Climate Care as part of a mission for sustainability.
Said by its creators to be a "purpose-built blockchain," WAX aims to revolutionize the way brands connect with their customers while simultaneously providing consumers with a unique, digitally native shopping experience. Indeed, WAX is so big on usability that network fees, which are already significantly low, are ultimately redistributed to the WAX community.
How to buy and sell crypto on WAX
WAXP is the native token of the WAX blockchain and therefore is used for trading NFTs throughout the WAX ecosystem. WAXP can be purchased through some of the major crypto exchanges like Binance and Uniswap or via third-party in-wallet apps like Moonpay. At any rate, you'll first want to create an account on WAX Cloud Wallet.
The WAX Cloud Wallet is a unique and convenient type of software wallet called a managed wallet. As the name suggests, WAX Cloud Wallet is managed by a third party. Creating and logging into a managed wallet is as easy as creating a social media account. And since a third party manages it, you don't have to write down lengthy security keys. For alternatives to managed wallets like Wax Cloud, you can read EOS Amsterdam's full explainer on the topic.
Once you have a WAX wallet, then comes adding funds via an exchange or a third-party app. Be mindful of the difference between WAXP and WAXE. WAXE is an Ethereum-based ERC20 utility token issued from the WAX blockchain. WAXP and WAXE are related but at a ratio of about 1000:1, with WAXE maintaining a much higher price per token.
Users can swap WAXP for WAXE, but the tokens are not interchangeable. WAXP is used to transact on the blockchain, while WAXE exists as a way for token holders to participate in WAX tokenomics, described in detail here. You shouldn't be able to obtain WAXE other than by swapping, but knowing the difference is still important.
How to make and mint a WAX NFT
Storing your crypto in a hardware wallet is great, but creating NFTs is easier when you use either a managed or self-managed wallet, like Anchor, Scatter, or WAX Cloud Wallet. While NFT projects can be created and launched in a few different ways, it's important to note AtomicHub, a leading NFT platform for creating, trading, and buying NFTs on the EOS and WAX blockchains.
To begin creating an NFT collection on WAX, first, navigate over to AtomicHub. Here, you'll need to sign in using one of the aforementioned wallets. Hopefully, you've already stocked up on a bit of WAXP, since you'll need it for minting. After signing in, navigate to the "create new collection" screen.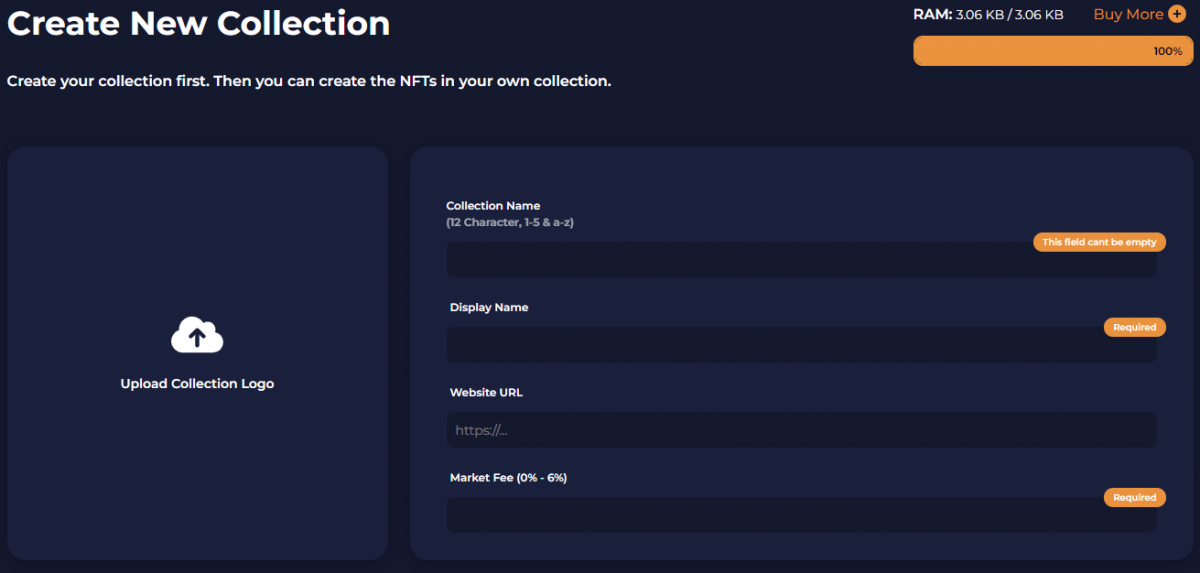 From there, it's pretty straightforward. You'll be prompted to add in details about your collection, link your related website or social media accounts, then set a market fee that dictates the percentage you will earn for every secondary sale.
Of course, there's a bit more to it, including setting a schema, uploading imagery, and finally, minting. For a step-by-step guide on the AtomicHub minting method, check out the WAX blog. For info on other methods, DappRadar is the place for you.
Wax NFT marketplaces
For other blockchains, there are many places for enthusiasts to trade NFTs on WAX. Like Tezos and Solana, the chain doesn't have as many medium-specific marketplaces (akin to the music and photo NFT platforms of Ethereum), but still hosts a wide variety of influential collections.
First, AtomicHub shines as not only a creation tool, but a one-stop-shop for trading NFTs on the Wax blockchain. Launched in June 2020, AtomicHub is an interface for the NFT standard AtomicAssets, which was developed by blockchain tech company Pink.gg.
AtomicHub is split into an explorer that allows users to browse through all AtomicAssets NFTs, a marketplace where users can buy and sell NFTs, a trading section, and of course, an NFT creator portal that allows anyone to create their own NFTs without any required coding knowledge.
Second, NeftyBlocks is definitely a close second on WAX when it comes to all-encompassing marketplaces. Launched in 2021, although Nefty is a bit younger than its competitors, its founder, Juan Paniagua, made the platform his passion project after deciding Alpaca Worlds wasn't for him. Similar to AtomicHub, Nefty provides a slew of both creator and collector features designed to simplify methods of managing collections on WAX.
Finally, to bridge the gap between Web2 and Web3 fandoms, WDNY.io is unequivocally leading the pack on WAX. Billed as the most robust hub for digital trading cards and collectibles, the platform regularly hosts curated drops featuring memorabilia from global brands and even cult classic film franchises like Godzilla, The Princess Bride, and Spiderman. Helmed by WAX studios, WDNY.io is the most direct and chain-specific way for brands to sell on WAX, and one of the most robust marketplaces to obtain officially licensed collectibles.
Top NFT projects on WAX
Thus far, WAX's 10-million-NFT drop has remained the single most influential project to come from the diverse platform. Featuring 10 unique badge-style NFTs, the commemorative launch celebrated the record-breaking milestone of 10 million accounts created on the blockchain. Given its magnitude, the drop is likely to keep its place at the top of the charts, but there are plenty of other collections that help define the WAX NFT market.
As previously mentioned, WAX is home to numerous top blockchain games that have become staples of the on-chain NFT ecosystem. Because gaming is such a dominant force, the biggest collections on WAX tend to be gaming related.
The aforementioned Alien Worlds is one of the most popular NFT gaming projects on WAX. Sometimes marketed as the "number one blockchain game on earth," Alien Worlds combines decentralized finance (DeFi) and metaverse technology into an easy-to-use, space exploration game. Blockchain Brawlers, although much newer than Alien Worlds, is quickly becoming a close second in terms of popularity. The game combines comedy, collectibles, and WWE-esque wrestling entertainment into an action-packed game where users can earn crypto and NFTs through gameplay.
As a unique and still developing entrant into the WAX gaming market, Dawn of Victory aims to be the first first-ever blockchain-based collecting card game centered around World War II. Featuring a mix of war history and cutting-edge blockchain tech, Dawn of Victory perfectly exemplifies the concept of digital ownership in blockchain gaming. With all this focus on Web3 gaming, it's important to note that WAX isn't the only blockchain seeking to foster the innovation of Web3 technology. But as the play-to-earn sector grows, one thing's for sure: WAX will remain a hub for innovative blockchain gaming.
Reposted from: nftnow.com
Related